Straitened/Straightened
Review of Margaret Mitchell's 'An Ordinary Eden' exhibition at Street Level Photoworks
This year, I have been doing my Year of Submission. No, I've not been drawn to Mecca, but have been drawn to submit pieces to other publications. The proper way to do this is to pitch an idea to an editor, get commissioned, and write something that you're both happy with. However, when you're used to the freedom of a Substack, all that admin can feel onerous.
Occasionally, though, magazines will advertise competitions. In this instance, you can simply submit an entry and see what happens. I've been attracted to these because I think, "well, even if I don't win, I can post the article on my blog." Today's article is one of these failed submissions.
The competition was the Source Writing Prize, run by one of my favourite photography magazines. I love writing about photography and, as last week's interview with Simon Murphy showed, people seem to enjoy reading about it. The following article is an attempt at writing a straightforward review and touches on one of my favourite themes: photographic ethics.
Avoid the algorithm and get Total Integration directly in your inbox
Straitened/Straightened
One of the biggest clichés in street photography is the tragic homeless person viewed from afar. Another cliché is the smiling homeless person the photographer has briefly befriended and then asked (respectfully, of course) if they can take their portrait. Homelessness resonates as a theme because it reveals societal dysfunction, yet the power imbalance between photographer and subject usually makes it inherently exploitative. Is there a way to bring attention to the issue without it being problematic?
An Ordinary Eden, Margaret Mitchell's recent exhibition at Street Level Photoworks in Glasgow, offers one way forward. It is not street photography, but a long-term project to document formerly homeless people as they rebuild their lives in a hostel or permanent accommodation.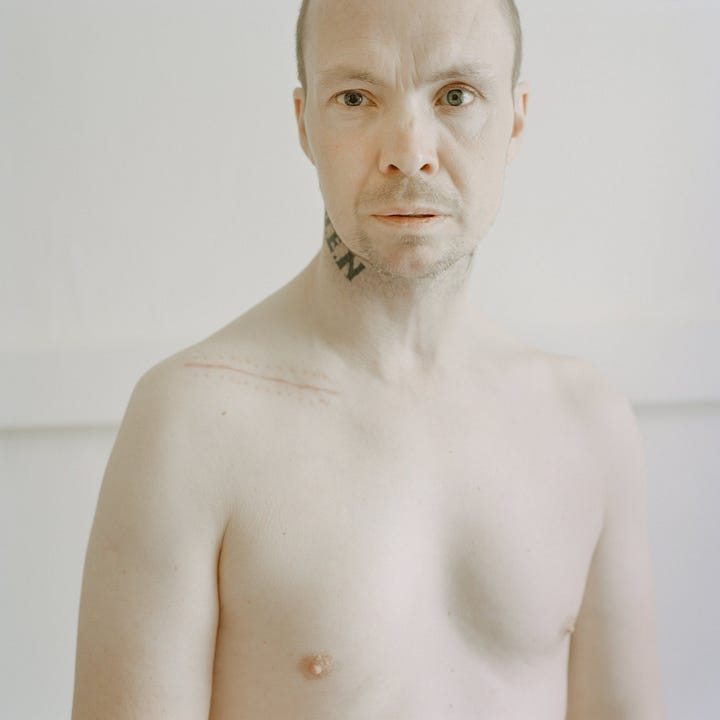 The exhibition's title derives from Michael, who is depicted as a spectral white figure with what appears to be a gang tattoo: 'E.D.E.N'. Michael, like many of the subjects, wanted to move away from the chaos of the streets, not to a fantasy utopia, but to a simple home. In reality, this means basic accommodation filled with flat-pack furniture. One of the few images that is not a portrait depicts a block of flats with a small wooden hut in the snow. Something, anything, to have a refuge in hard times.
The project began in 2019 and was stretched out to four years due to the pandemic. Mitchell spent time during lockdown in conversation with the people she photographed, listening to their stories and connecting the fragments. An abusive relationship, a family argument, addiction — it is scary how little it can take to find yourself without options, especially when social services are being gutted. These individuals are the lucky ones. They are the survivors who have managed to negotiate the psychological and administrative obstacles to getting a home. But they have all clearly been left traumatised by the experience. An arresting image of Lyndsey with her daughter Summer in the foreground highlights what years of precarity can do to a person.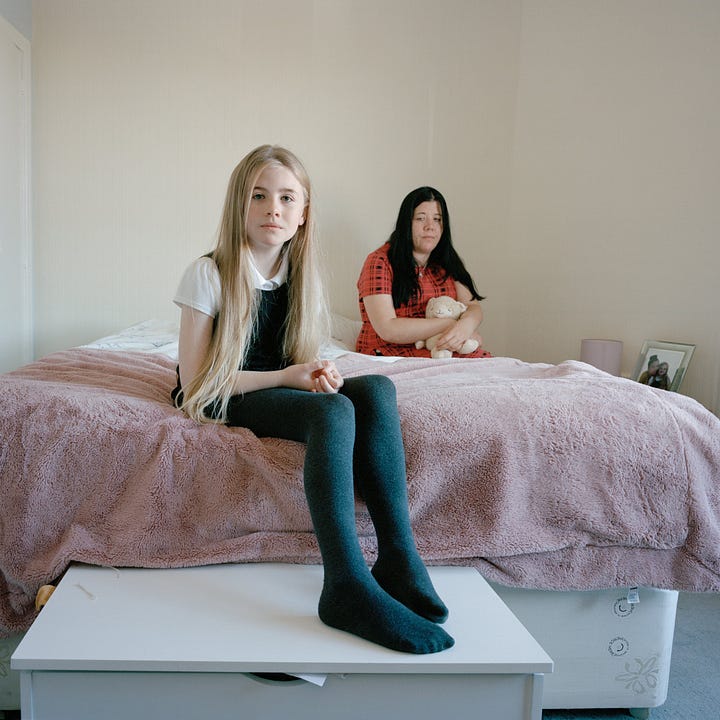 The photographs are most resonant when there is tension between how the subject sees themselves and how Mitchell frames them in their environment. An unnamed woman wearing a shiny winter coat turns away from the camera to avoid being recognised by an abusive partner. A pink sequin mask completes a look of vivid anonymity. Above her, a framed print of Marilyn Monroe stares at us from the wall. A reminder of the dreams we hold.
This tension is even more visible in the image of Div, soaked to the skin in the rain, his tribal tattoos visible through a white T-shirt. It's a heroic pose, defiant even, but based on reality rather than escapism. I was reminded of the teenager's desire to lose everyday consciousness through hedonism. It's great until you realise that for every high there is a corresponding low.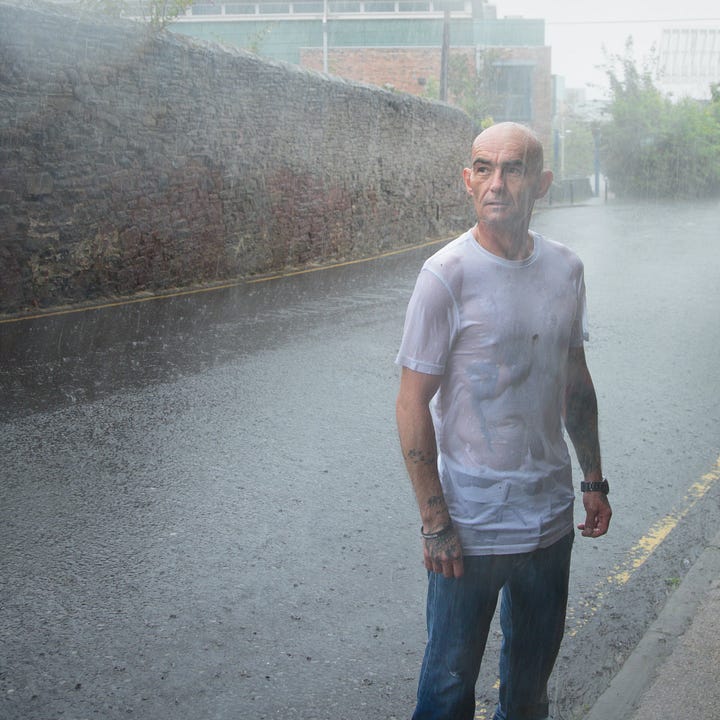 Graeme, one of the few subjects who makes eye contact with the camera, conveys this realistic approach to life. One can see the relationship with the photographer in the eyes. There is no sense that Mitchell is patronising him. He isn't suspicious of her motives. This is not documentary photography where the camera pretends to be an objective observer, Mitchell has been invited into his home as a guest. He has a quiet pride at having escaped the worst and there is hope that life will be better now. A set of empty frames on his wall await the arrival of new photos and new memories.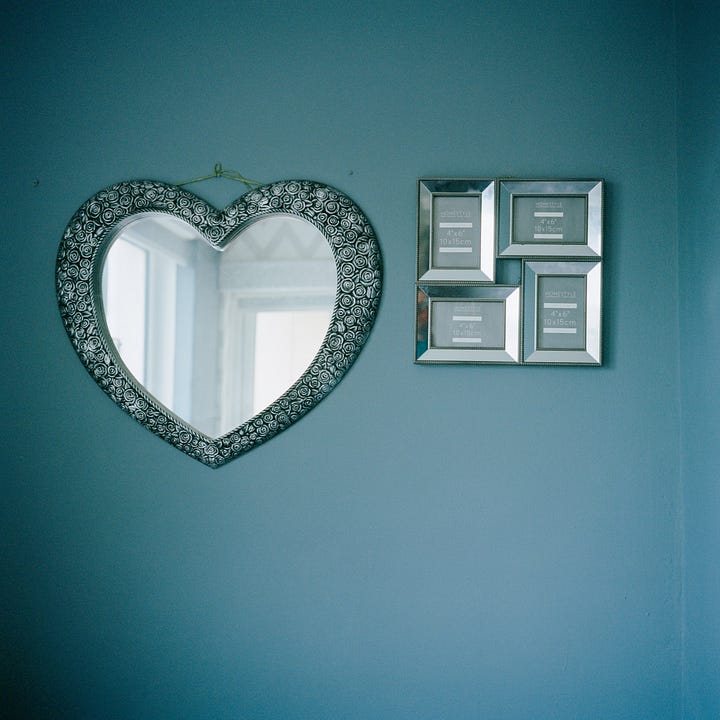 Every story in the exhibition is, necessarily, a story of redemption, of being straightened out and becoming whole. Anyone who can participate in a four-year project is already on a good path. But one wonders how much Mitchell's unsentimental empathy helped them in their journey. She encouraged them to write and take photos of their own lives. She collaborated with them to choose which of her photographs they liked best. Anything to avoid doing more damage by being exploitative.
'An Ordinary Eden' was exhibited at Street Level Photoworks between 6th May 2023 and 16th July 2023.